WHEN DESIGN SUPPORTS RECOVERY
DCC DESIGN TEAM | JULY 2018
The team at Robert Wood Johnson University Hospital, New Brunswick, recently celebrated the relocation and renovation of its Orthopedic Unit with a ceremonial ribbon cutting. The project involved a retro-fit of an existing patient floor, once composed of rooms filled with idle casework which generated a small footprint, now offering patients spacious rooms in a hospitality-centered environment.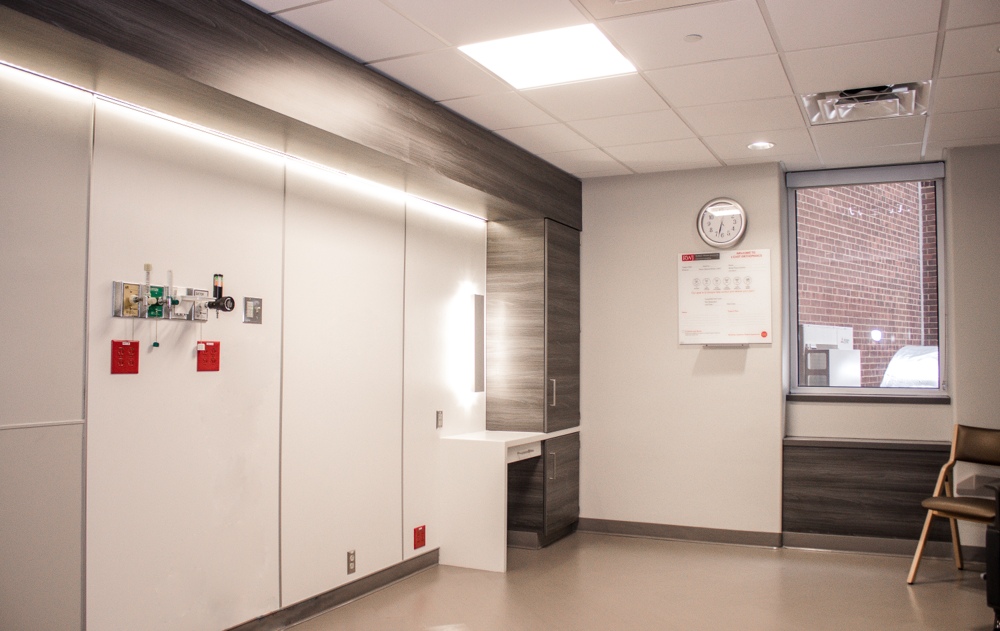 As with all healthcare projects, it is important to approach the design from the perspective of the consumer. Individuals undergoing orthopedic surgery and PT recovery often have trouble with mobility and pain post-operation, calling for an open, safe and accommodating clinical environment. DCC Design was entrusted with delivering a design with a high-end feel on a low budget that would elevate the end-user experience as well as the facility's existing brand.
"We wanted the new unit design to feel like a hotel stay while maintaining a safe and comfortable environment, providing privacy and modern amenities for those in recovery." – Nicole Cocolin, principal and owner of DCC Design Group.
The design team carefully considered the use of sophisticated, yet functional materials that would endure time and assist in recovery efforts. Distance landmarking was integrated into the design of the patient corridor that will help patients in tracking their programmed distance goals. This was accomplished using specialty wall protection with colorful Acrovyn, representing distance markers throughout the space.
Private rooms were fitted with new headwalls and cabinetry resembling the look of a refined hotel, as well as multiple integrated LED light sources that give patients control of their equipment. Patient restrooms were re-designed with the inclusion of European-style curbless showers, metallic, geometric wall tiles, and contemporary plumbing fixtures, reinforcing the design concept. The existing restrooms lacked sufficient space, creating a challenge for those in recovery. Our design solution eliminated large, physical barriers within the space, elevating the patient experience and ease of movement.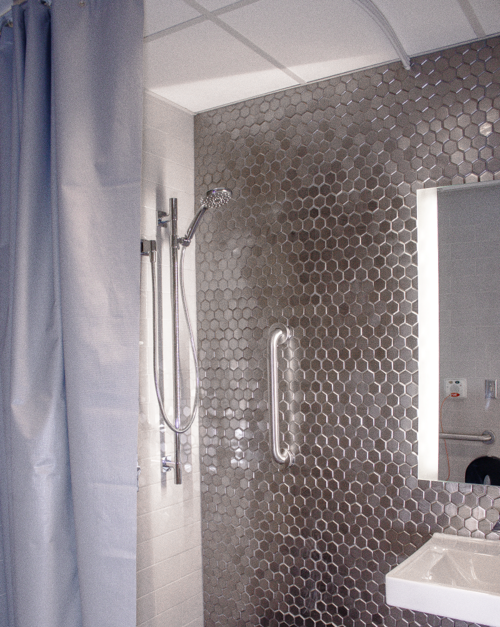 State of the art Ecore cork and rubber back flooring was installed to aid patients in rehabilitation during daily exercises and with general movement throughout the unit. This product was designed with ergonomics and safety in mind, providing medical staff and patients with additional support and a non-slip surface with a high shock absorbency.
DCC Design has worked closely with the medical team at RWJUH, New Brunswick throughout the planning and construction process to ensure that all moving parts coordinate with their branding, services and demographic.
Robert Wood Johnson University Hospital, New Brunswick | Planning, Branding + Interior Design Services